Busy Mum: How I Feed My Children Healthy Meals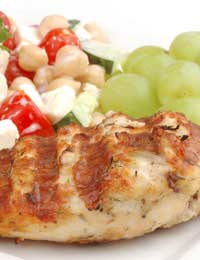 These days, a couple who can afford for one parent to be a caregiver to the children and nothing else are few and far between. Most parents work, run the house and do countless other jobs too such as looking after their own parents, volunteering and working overtime. Therefore, many people also say it is difficult to find time to prepare healthy meals for their children in the time they have available.
Here Tina, a mum to seven-year-old Rhys and ten-year-old Emily describes how she holds down a full-time job, looks after her ageing mother and cooks proper meals for her children.
"My kids are great in terms of what they will eat," Tina says. "They have both been brought up eating the same as us from the time they were weaned onto solids so I thankfully don't have to worry about whether they will or won't eat something. They are fairly adventurous in their tastes and like to try new things."
Introduce Children to Good Food Early
She said she believes this is the first step on the road to making sure you can feed your children healthy meals."It stands to reason that if children are not fussy, mealtimes will be a lot easier. It means I can just make up a big batch of whatever we are having for dinner and dish theirs up earlier so they can eat before homework, baths and bed."
Organisation
But it's not as easy as just summoning a meal up, Tina says it does involve a lot of planning.
"There's no way I could give my children healthy meals every night if I wasn't organised. Organisation is absolutely key."She said she plans what she is going to cook each week, and goes shopping to buy the necessary ingredients. But she also uses the idea of themed weeks so that she always has the right ingredients in the fridge.
"Themed weeks are a great idea," she says. "It's as simple as deciding you are going to make some pesto on a Monday night and then planning five or six meals using pesto, be it pesto crusted fish or pesto and pasta."
Get the Children Involved
And, ideas such as making a key ingredient can also involve the children and get them excited about food."We've made our own pasta before," she says. "On a Sunday afternoon, we'll have great fun making a batch of dough which will last us all week. The every night we'll roll it out and make different shapes depending on what we are having it with. The children get excited about food and I know exactly what they are having. Plus, fresh pasta cooks a lot quicker than dried as well!"
Using leftovers is also a good way of making sure that nothing is wasted and that meals can be prepared as quickly as possible."You will usually know that a meal will yield plenty of leftovers and this can be incorporated into your meal plan for the week."
"It is all about organisation and then making sure that your children will eat whatever you give them. It's not hard to get kids to eat healthy meals – in fact, as long as they have been brought up eating the right stuff, it's a piece of cake – no pun intended," laughs Tina.
You might also like...