The Community Aspect of Playing Sport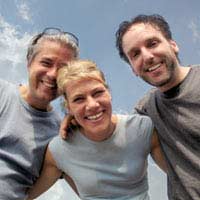 Sport is about far more than just keeping fit and healthy. The community aspect of playing sport cannot be underestimated as it is a great reason to take up a sport, and when the going gets tough, it is one of the main reasons for people sticking with that sport and not dropping out.
Without this community and social aspect, sport would become far more like a chore, but with it, it is an enjoyable pastime which many people grow to love, even those who may have professed they hated exercise before taking up a sport.
Training Together
The community aspect of sport which most newcomers will be glad of is that of training together.
It can be very difficult to motivate yourself to train alone, especially if you have not done any sport before. This is especially true if you are training for an individual sport such as running. But there are still clubs which you can join and then there will be people of similar abilities who you can train with.
This will provide a marker for you to compare yourself against and also give you people who will encourage you and cheer you on to meet your goals. This of course also applies in team sports where the whole team will train together and urge each other on to greater things.
The Social Side
Like any type of club, most sports clubs have an active social side to them. This is important as it give teammates the chance to catch up with each other off the court, pitch, track or field.
You all already know that you have one interest in common with the sport you are all playing so by socialising together you will be able to get to know people better, safe in the knowledge that you always have a fallback subject if common ground proves to be a little scarce. But you may also make a whole new group of friends – all thanks to sport.
Personal Development
By meeting new people through sport, you will develop as a person as well as in your chosen form of exercise. If you are shy, it will give you a chance to build relationships in a safe environment. If you are overbearing, it will teach you to listen to others and respect their opinion.
Whatever type of person you are, playing sport gives you the opportunity to work on teamwork skills which will stand you in good stead in all areas of life.
The community aspect of playing sport is just as important as the fitness side. You should bear this in mind when taking up a sport.
Running or swimming alone are great supplements to other exercise, as is working out alone at the gym. But there can be no substitute for that community aspect and it will be a lot harder to fulfil your intentions alone than it would with others around you. So think about this before deciding that sufficient exercise for you is a run alone on a Saturday morning – think about how you will feel when it is raining, you are tired and lonely and have no-one to spur you on.
You might also like...