Energy Drinks and Food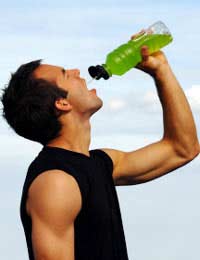 Energy drinks and food are vitally important if you are planning to embark on an exercise routine.
There is no point starving yourself as a way to lose weight, as you will not leave yourself with enough energy to complete your exercise and run the risk of making yourself ill if you do try to do so.
Although we often think of calories in terms of excess weight or how much weight we have to burn off, the truth is that calories are actually a measure of energy, something which we all need in order to live, let alone exercise on a regular basis.
Water
Whatever else is on offer, water remains the ultimate energy drink. It hydrates us and replenishes lost water during exercise. But it also gives us energy because we need water to function. Without taking on enough water, we can become sluggish and tired. If you are sitting at your desk in an afternoon and feel tired, take a walk to get a pint of water and see how much difference it makes – you may well be surprised.
Energy Drinks
Over recent years, there has been an explosion in the sector of the market which promotes energy drinks. There are many different types and all have their place but not all are as efficient at giving us the type of energy we need to lead a fit and healthy lifestyle. The energy drinks which many people drink to stay awake and alert generally contain large amounts of caffeine and taurine. While these may be particularly effective at keeping us awake, they are not as good as other products when we need extra energy to exercise.
In these cases, it is better to go for drinks which have higher levels of glucose and similar sugars which will give our bodies the energy they crave to go on and complete our exercise schedule. There are also energy drinks which replenish lost salts which are also important when exercising, especially if it is hot and you are sweating and therefore losing lots of salts.
Energy Food
But just as important as energy drinks are energy foods. We will get nowhere without eating well and eating the right types of food. It is no good just filling up on junk or foods which give a short term sugar high. If we are going to exercise and exercise effectively, we must eat foods which release energy constantly and slowly over a specific period of time after eating.
Some of the best of these foods are carbohydrates which break down more slowly than other foods – or complex carbohydrates as they are known. Pasta and potatoes fall into this group, although wholewheat pasta is better than white and baked potatoes better than other types as the goodness lies in and just under the skin.
Too many novice sports people and people who are embarking on an exercise routine specifically to lose weight make the mistake of thinking they will lose it more quickly if they just eat less. But this is not true, and, in fact, the more you exercise, the more food you need for energy. You only have to look at the diets of top sports people to see how true this is. But bear in mind what type and how much activity you are going to do and make sure your calorie intake is tailored to this.
You might also like...