Exercise as Recreation rather than a Chore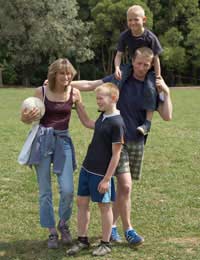 The main key to starting to exercise regularly is to see exercise as recreation rather than a chore. And by taking part in regular exercise with your family, or friends, exercise becomes much more of a social leisure activity rather than something which has to be endured.
There will always be times when it feels like a bit of a bind to have to start exercising, especially if you have had a hard day at work, or are tired and lethargic, but follow these tips and these times will be held to a minimum.
Find a Time to Suit You
You must find a time to exercise which suits you, because otherwise, you will find that more and more you are having to force yourself to go for a run, or to the gym or to fetch your bike out. Some people are at their most active in a morning and really benefit from working out or exercising before work. They find that this sets them up for the day and that they even see an improvement in their work as a result of exercising in a morning.
But if you do not like early mornings, then you are only ever going to see this as a chore. This will mean you find it harder to get up every morning until the time comes when you skip a session. From there, it is easy to skip more and more until you stop exercising altogether.
Exercise Socially
Exercising with other people has a double effect on your motivation. First and foremost, having some company when you exercise means that you can chat and enjoy yourself – treating the exercise as recreation and not a chore. But having a training partner also means you will be able to motivate each other to reach your goals. Because you will both be working at the same thing and towards common goals, you will find you are pushed harder than you would otherwise have been if you were alone.
Choose Something You Enjoy
The importance of this point cannot be stressed enough. It is absolutely imperative that you choose an activity you enjoy, rather than something you think you should do. If your stamina is low, then going for long runs every day is not going to be pleasurable. And exercise should be pleasurable. You should do it because you enjoy it as well as because you want to get fit. And if you enjoy it, you will be far more likely to keep it up, and even increase the amount you exercise, which will have a positive impact on your fitness levels.
Too many people see exercise as a chore, something to be endured rather than enjoyed. But in reality, nothing could be further from the truth. Exercise should release endorphins, also known as happy hormones. These should enter the bloodstream and make you enjoy the exercise as a result. If you do not like the exercise in question, then your body may not release endorphins because you are not putting your all into it – meaning that you lose half the benefit of exercising.
And, even more importantly, the more you enjoy the activity, the more likely you are to step up your regime and get even fitter.
You might also like...