Household Chores to Keep Fit as a Family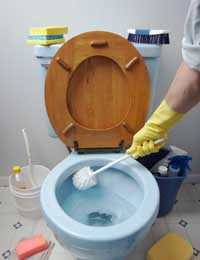 Setting each member of your family household chores to keep fit as a family may not seem like the most obvious solution to family fitness but it is one which has numerous benefits. Once you have actually convinced the less helpful members of your family to start household chores, the advantages flow in - for everyone, not just the family member on whose shoulders the chores normally fall.
With experts saying that half an hour of housework a day classes as light exercise, there is no better way to incorporate exercise into your daily routine.
A Rota System
A rota system may seem like the fairest way to do things and it certainly does have its advantages. However, there are also downsides to a rota system which may make you reconsider whether this is the best way to go.
Advantages include the fact that no one will get stuck with what are perceived to be the worst jobs, everyone will have to do them every so often. It resolves any arguing about, who has got what job, as it is there in black and white. However, as long as it does not leave all of the worst jobs for you.
Dividing chores up according to what each individual wants to do may be a better way to go. This way, each individual may be more inclined to do a better job on their task, partly because they prefer it but also because they feel some sort of ownership for that task and will therefore have more pride in it. In addition, everyone will always know exactly what they are doing every week because they have chosen it.
What Chores Are Exercise
All chores can be exercise in some form or other because they are not sedentary. However, it stands to reason that in addition to this, some chores are better for you than others. For example, vacuum cleaning the whole house properly is obviously more strenuous than washing up.
Dusting can also be good exercise, but that is not to say that all chores where you stand still are not as good for you as those where you move. Ironing, in particular, is supposedly very good, and half an hour of ironing counts as your exercise for the day. It is probably wise to make sure a more careful family member has this task though, unless you do not mind scorch marks in all your clothes.
Keeping fit should be fun but it should also fit in with your life, as it is not always possible to find time for a run or a cycle ride.
Fitting household chores into your's family's fitness schedule is the perfect compromise,and if your family is finding it really boring then set them challenges to make it more competitive. A word of warning though - unless you do not mind dishes being left dirty and under the bed remaining unvacuumed, it is probably wise not to make these races, as quality of cleaning can be lost in order to achieve maximum speed.
You might also like...