How to Help Children who Enjoy Sport rather than Excel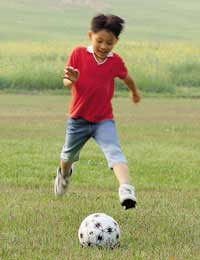 A tricky problem for some parents can be how to help children who enjoy rather than excel. In the main, these are most people's children. We cannot all have the next David Beckham or the next Andy Murray but this does not mean that we cannot foster and cultivate a culture of sport enjoyment for all youngsters regardless of their ability.
The truth is, that some of the children who enjoy sport more than anyone else are the one's who are not necessarily very good at it. But for these youngsters, the joy comes from taking part, from kicking a ball round a field with their friends, from making a whole length of the pool without putting their foot down. So parents need to be very aware that this enjoyment should be nurtured, despite the fact they may suffer competitive knock backs.
School Sports Teams
School sports teams are a minefield for youngsters who are not very good at sport. In these days of political correctness, we do hear of schools which have banned competitive fixtures, but of course, on the whole, a little competition is healthy for youngsters. However, this notion is not particularly consoling for the children who do not make the grade of the school team and therefore, the parent with a non-excelling child has to think about how they handle the situation.
The first thing to do is to ensure that they can still play their favourite sport even if they do not make the school team. Be it in the playground with their friends, in the garden with mum or dad or at the after school club, there is still plenty of scope for playing not in the team. But they may still feel like they want the chance to compete in the way their friends in the team do. In this case, it may be worth taking them to s sports club which has A and B teams and where the children who are less able will be looked after and nurtured. In this way, they still get the competitive element, without feeling like they are out of their depth compared to others.
Peer Competition
Amongst every group of children, there will also be peer competition. Even if the school does not have a structured team, children will soon work out who is good at the sport and who is not. Of course, if your child is not, this can leave them open to teasing and even bullying. The main thing to remember here is to look out for early signs of this happening so that you can intervene as early as possible. If your child suddenly stops enjoying the sport and doesn't want to play any more, this might be a sign that something is wrong and it would be best to get to the bottom of it so they are not put off sport for life.
One of the best, if not the best, reasons for playing sport is for the sheer joy of it. Therefore, if your children enjoy it, you have won the battle to get them to exercise easily. They must not be put off because they lack ability. Of course, it is always worth trying a few sports before they settle on one they want to play lots of. Who knows, you may hit on one they enjoy and excel at. But if this is not the case, it is far preferable to have a child who loves sport but is not great at it compared to a brilliant child who hates having to go out onto the pitch or court. Especially as youngsters, enjoyment is half the battle.
You might also like...