How I Improved My Fitness: A Case Study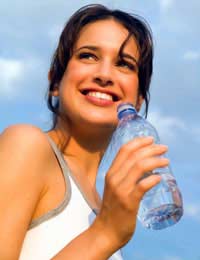 Joanne is 26, 5ft 7in tall and weighed 12st before she started her fitness regime. She had previously played plenty of sport but stopped much of it when she started work following university. In October last year, she decided that she wanted to get fit again and tone up. Her dress size was a 14 and she knew she would feel happier if she could tone up sensibly and fit into a 12 again. This is her story.
"I was sport-mad at school and university but, like many people, when I started work, I just stopped playing all the sport I had previously done. In addition, because my job was largely desk-based, I was moving around less. I moved in with, and then married my boyfriend and we fell into the trap of being too tired after a day at work to cook properly.
"Although I didn't feel fat, I knew I didn't look my best and I harboured a desire to tone up again and get back to the way I had looked and felt when I left university. The first thing I did was cut down on alcohol. Not only does alcohol contain lots of calories but it also leaves you feeling sluggish and lacking in motivation. It had become too easy to open a bottle of wine on a week night, so I cut down my alcohol intake and restricted myself to a drink at weekends or on special occasions.
"The next thing I wanted to do was introduce regular exercise back into my life. I started off gently and found a place where I could park my car, about 15 minutes away from the office, instead of right outside.
"Now, I enjoy a 15 minute walk at the beginning and end of every day and find it equips me much better for the day ahead, giving me time to think and then to wind down when I finish.
"I also started to play sport again. Running a couple of times a week reminded me how much I had loved it before. The runs do not have to be marathons, just a couple of miles. Even in the pouring rain, my muscles were telling me how much I loved it.
"And finally, I banned takeaways and started to cook properly. Healthy and filling pasta dishes which were quick to prepare with minimum fuss, tasty risottos and filling homemade soup. I learnt to have a passion for good quality ingredients and shunned the takeaway menus.
"As a result, in a little under 18 months, I have toned up, lost one and a half stone and dropped down to a 10/12 dress size. But I also feel much fitter and as a result of this have rediscovered a zest for life. And the best thing was, none of the changes were a sacrifice at all – they all added to my quality of life, and the last thing I'll be doing is going back into those bad habits. Life is a whole lot better as a result of being fitter."
You might also like...