Rainy Day Fitness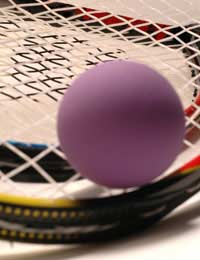 Although many sports take place outside and there are lots of ways to exercise together as a family outdoors, there are also plenty of options for rainy day fitness as well which you can work into your family's exercising schedule. Fitness does not have to stop when the weather turns bad, and, in fact, staying fit can help to improve everyone's mood when it rains as it releases endorphins, also known as happy hormones, which will cheer everyone up.
Indoor Sports
One of the best ways to optimise rainy day fitness is to take up an indoor sport in the first place. The benefits of an indoor sport are that they are sheltered from the worst effects of the British weather. This means that you will never be able to say that you cannot be bothered to exercise because the weather is bad. Of course, the flip side of this is that in the summer, when the weather is good, you may not get the chance to take advantage of this because you will be playing your indoor sport. Having said that, many indoor sports also have outdoor variants which you can play during the hotter months, thus getting the best of both worlds.
Volleyball and basketball are both sports which can be played inside for the majority of the year and then outdoors in the summer.
The Gym
Being a member of the local gym means that you will always have somewhere to exercise on a rainy day. It means that whatever the weather, you will be able to row, cycle or run to your heart's content. However, this too has its own set of disadvantages.
Many gyms tie you in to a year contract, so if you prefer to exercise outside when it is not raining, you may find this too much of a commitment. In this case, it is best to shop around and find a gym where you can join up on a rolling basis or something similar.
Exercise DVDs
Exercise DVDs are a popular way of losing weight and getting fit, especially in the winter months. They are a great solution to rainy day fitness because they are inexpensive so you can afford to only use them when it is raining. What is more, you do not even have to leave the comfort of your own house, rather, you can just throw on the DVD in your living room and exercise away. If you are exercising in the comfort of your own home, other family members may be tempted to join you, due to the ease with which they can exercise, thus having even more benefits.
Of course, the ultimate solution to rainy day fitness is to exercise regardless of the weather. Footballers, rugby players and runners all take part in their sport in the rain, so you could follow their example and do your exercise even if the heavens have opened. And far from being uncomfortable, going for a nice long run in the rain can actually be an uplifting and exhilarating experience.
You might also like...