Retro Activities for Family Fitness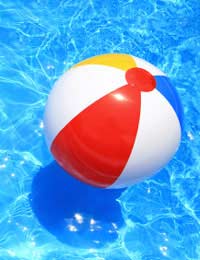 It can be difficult to find activities and exercises to do as a family which please everyone in the group, from young to old and everyone in between. But if you think back to your own childhood, there will almost certainly be things you did with your family which kept you fit whilst having fun. Perhaps a good idea would be to try and introduce some of these retro activities for family fitness into your own family's exercise programme. After all, the simplest activities are often the most effective and the more simple they are, the more likely they are to appeal to all.
Garden Activities
If you think back to your childhood and long, hot summers, you must be able to think of ways you enjoyed your garden as a family, while keeping active. Games such as swingball may have fallen out of favour with families these days but used to provide hours of entertainment for families to indulge in together. Why not locate an old swingball set and introduce your children the game?
Alternatively, one way that many families would have spent hours and hours is with the aid of a paddling pool. So invest in a decent sized padding pool and beach ball and instigate games of catch with the added bonus of water to make things even more fun.
Indoor Activities
Thinking of retro activities for indoors which will also keep your family fit is more of a challenge due to space constraints. However, don't forget that any tiny amount of activity is better than none at all so any small exercises are better than sitting in front of the TV. One retro game which fits this bill springs to mind straightaway – Twister. The iconic board game was huge in the 1980s and is fun for all the family. The fact that movement, balance and strength are all needed means that despite it feeling like a game and looking like a game, families can actually derive some fitness benefits from it.
Park Games
Parks are used a lot less for general fun and games these days but are full of ways to have fun with your family and get fit at the same time. A simple game of hide and seek or sardines, once one of the best and most enjoyable ways to spend a few hours, has fallen out of fashion. But these games get everyone running around and enjoying themselves in the fresh air – so why not take your family down to the local park to indulge in a sport of hide and seek?
There is no doubt that modern life with all of the sedentary ways we have now has contributed to a rise in obesity and a drop-off in fitness levels. So it seems only natural that one of the best ways of remedying this is to dig out some old ideas for having fun and fitness in the style of your own childhood. And what's more, you know that your own youngsters will love the games as much as you did yourself when you were their age.
You might also like...