Low BMI but Stomach Fat: How to Target the Weight loss?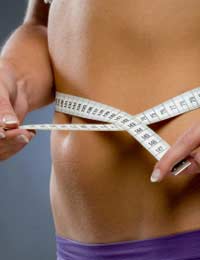 Q.
Here's my problem: my BMI is 18.5, so I can't put myself on a diet, but I have a thick layer of belly fat - I'm an apple shaped woman. When I do exercise, I not only lose belly fat but also fat in other areas, which makes my legs, thighs etc. very skinny. What can I do to lose my belly fat?!
(T.L, 21 June 2009)

A.
The first thing to remember is that BMI is not the be all and end all. It can be a useful measure of being over or under weight for some people but it is not a suitable measure for all people - if we all used the BMI measure as gospel, we would have plenty of sports stars, especially rugby players, who were classed as overweight due to the weight of their muscle mass.
But the problem you outline is not as rare as you might think. Some people, especially women, do tend to put on weight on one part of their body, and the stomach is one of the most common places. To lose this weight, targeted exercises are key.
Women are designed to have some belly fat - it is part of what makes them able to carry children. However, there are things you can do to minimise this and toning is one of the easiest and most important. The obvious way to tone your stomach is through sit ups. If you do as many sit ups as you can manage every day, they your stomach will start to tone up. But do be aware that you must do them properly, otherwise you are doing more harm than good. Invest in a sit up bar if possible.
Make sure you also do the recommended 30 minutes of activity every day as well to keep fat off. General walking and moving around count towards this - it does not have to be vast amounts of intensive exercise. However, because you are so close to being underweight according the BMI measure, then you must make sure you replace what you lose with protein to help build your muscles, so try and incorporate more protein into your diet. The last thing you need to do is to decrease the calories you take in, but by eating plenty of protein, you will make sure that your body weight stays at a healthy level, while the stomach fat is targeted.
There are other toning exercises you can do, such as crunches. Basically, any exercises which feel like they are stretching your stomach will help - if it feels like it is doing a good job then it probably is.
You might also like...