Alcohol and Family Fitness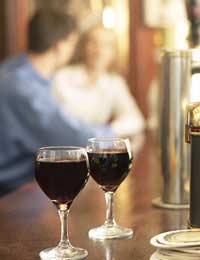 Alcohol and family fitness do not go hand in hand. In fact, alcohol and any kind of fitness do not make the best bedfellows. Alcohol is bad for the body in many ways and can often prevent an otherwise effective fitness routine from taking hold and working as well as it should do. Of course, a small amount of alcohol in moderation is fine, as long as people know their limits. But too much alcohol can have real repercussions on your health and fitness levels.
Weight
The first reason that alcohol prevents a fitness routine from being really effective is that it is full of calories. Any type of alcohol contains far more calories than the equivalent soft drink and someone who binge drinks can easily take in virtually their whole day's calorie allowance in a heavy night. This of course means that the person will put on weight. If they then stop eating to combat this weight gain it means they are not having enough nourishment. In addition, when the body does start to burn fat, the fat which the alcohol has put on is the hardest to move.
Blood Pressure And Cholesterol
Alcohol consumption increases the risk of developing both high blood pressure and high cholesterol. In turn, these conditions increase the risk of heart disease, heart attack and stroke – all potentially fatal conditions. Cut down on drinking – and binge drinking in particular and the chances of developing these conditions are greatly reduced.
Liver
All internal organs are susceptible to damage caused by excessive alcohol intake but none more so than the liver. The liver is the organ which is responsible for flushing out the body and eliminating the toxins which you put in. Therefore, it follows that the more toxins you put in, the harder the liver has to work. This can lead to irreversible damage of the liver through diseases such as cancer or cirrhosis.
The conditions and risks described above are just the tip of the iceberg when it comes to the kind of damage alcohol can do to your body. It can also cause problems such as gastronomical ones and stomach ulcers. In addition, binge drinking and getting drunk increase the indirect risks of alcohol greatly.
People who go out regularly and binge drink, getting intoxicated to the point at which they do not know what they are doing are far more likely to end up in hospital, either because they get into some kind of fight or dispute or because they do not have full control of their faculties and are therefore more likely to have an accident. In these cases as all, it is more likely that the drunk person can also hurt someone else, meaning that it is not just the drinker who suffers the adverse effects of alcohol consumption.
Moderation is the key with alcohol consumption, as with all vices. As long as you moderate your alcohol intake it and keep it to a sensible level, within the government guidelines for healthy drinking, you should be able to embark on a fitness programme which will benefit you and not be hampered by the amount of alcohol you drink.
You might also like...