Growing your own Produce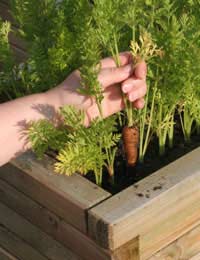 Growing your own produce is one of the most rewarding ways to boost your intake of fruit and vegetables, as well as that of your whole family. It is also the perfect way to get children interested in where their food comes from and what it looks like in its most raw form. Furthermore, you can also save money by growing your own produce, not to mention the convenience of having crops right there outside your kitchen window.
What Can You Grow?
Although there are some fruits and vegetables which are difficult to grow in the UK's climate, as a general rules, most common fruit and veg can be grown, either in your back garden, or in a greenhouse. Some crops will be easier to grow than others but with perseverance, most will thrive. Some of the most popular crops to grow are tomatoes and beans.
Beans are especially beneficial for children because they are hardy and yield a crop relatively quickly. Herbs are also a useful thing to grow as it means you do not have to make a journey to the shops just to liven up a dish with a different flavour. Most herbs grow well if planted in the right soil and tended, leaving you with an abundance of flavour.
What Are the Benefits?
The benefits of growing your own produce are numerous. Firstly, the convenience factor cannot be underestimated. Imagine starting to make a spaghetti Bolognese and popping to the greenhouse to grab some tomatoes to add to the dish – it doesn't come much fresher than that. That is another benefit – the freshness of the ingredients and the fact you will always know exactly where they have been and what has been put on them.
If you don't add anything to your crops, then you know they are 100 per cent natural. But when it comes to healthy eating for your family, one of the biggest benefits has to be the impact on your children. They will want to eat things they have helped to grow, and as such, you will be able to convince them to eat a whole range of vegetables which they may otherwise have turned their noses up at.
Where Do I Start?
It can be a bit daunting knowing where to start with growing your own produce but the best way to start is small – that way, you won't be overwhelmed by lots of different plants to look after at the same time. It really can be as small as you like. You could even start with a few herb seeds in a small pot on the windowsill. Once you feel confident enough, you can progress to planting bigger things outside. Some crops, such as basil or rosemary, will be almost instantly satisfying, as they grow quickly, others will require more patience.
Produce growing is a great way to ensure a supply of fresh herbs, fruit and vegetables for the whole family. It is also a fun hobby for you and your children and, as it is relatively inexpensive to start, is a great way of spending quality time together as a family without breaking the bank.
You might also like...