I Was a School Cook: A Case Study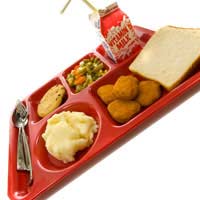 Janet worked for most of her career as a school cook. During the 30 years that she worked as a cook she saw many different trends come and go. But the challenge of providing children with nutritious meals on a limited budget meant that there was always one over-riding aim – to cook food that the children would eat.
"Children are notoriously picky eaters," Janet says. "They are the hardest people possible to cook for."
"And a group of children in a school is worse than any other group. At least if you are cooking for a family with lots of children, the children will have been brought up the same way, so if they are picky, at least they are likely to be picky in the same way. But in a school there is no such consensus."
Children's Backgrounds
Janet explains how the children in a school come from a wide variety of backgrounds and therefore have all been subjected to different types of eating at home.
"Some of them will eat anything as their parents will have given them the same meals as the adults in the family. These are the children who will eat smoked salmon, olives, anything really. But of course, we couldn't possibly give all of the children that because they are so many children that wouldn't even consider eating that type of food."
She said that the children who have been fed fast food and junk at home are the hardest ones to please.
"Although these children are used to eating the least nutritious food, they are also the quickest to turn their noses up at anything unfamiliar. These are the children who would rather spend their lunch money on chocolate and crisps. They have to be watched carefully and it means that as cooks, we have to provide fairly plain meals because otherwise we will end up with at least half the children not eating anything."
Jamie Oliver
And she said that throughout her time as a cook, she had seen many different trends come and go, with the healthy eating movement bringing school dinners full circle.
"When I started out, we cooked plain but wholesome food," says Janet. "The children ate it and everyone was happy. But the convenience food crept in and it was found it was easier to save money by giving the kids turkey twizzlers and the like. They were cheaper to buy and quicker to prepare. The kids ate them too.
"But the big problem was that they were no good for children and provided them with nothing other than salt, sugar and fat."And then Jamie Oliver's school dinner revolution came along.
Janet says: "A lot of people believe schools cooks were unhappy about what Jamie Oliver did. But in actual fact, most of us loved it. We were so glad that someone had pointed out how bad the food was that we were forced to give the children. And with Jamie's campaign came lots of new ideas for cheap school meals that were not too adventurous for those youngsters who would not eat unusual foods.
"It was a great feeling when I retired last year to know that the children at the school I had cooked at for 30 years were set to carry on having healthy and interesting lunches. It makes you feel like you have really achieved something – and long may it continue," she says.
You might also like...