Involve the Whole Family in Mealtimes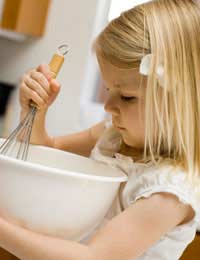 If you want to get your family eating healthily and being interested in their food then the best thing to do is to involve the whole family in mealtimes. There are plenty of roles to go around and the benefits will be twofold. Firstly, all of the members of your family will feel that they have contributed to the healthy eating regime, and secondly, it means that all of the work will not fall onto one family member. Divide jobs up according to what family members like to do and what they can do – especially important if you have young children.
Planning
In many ways, planning the mealtimes is the most important way to get everyone involved. By sitting down and choosing a week's worth of recipes, you will ensure that everyone's favourites are represented.
Don't discount suggested meals because you think they are unhealthy – even the meals which outwardly appear bad for you can be made into something very good with a little thought and imagination. For example, if you use high quality ground beef to make your own burgers, you can add herbs, spices, onion, even peppers, boosting the fruit and veg count for the day, while making sure that burgers can remain on the family menu.
Shopping
Shopping is a vital part of organising healthy meals. To make sure that you eat good and nutritious healthy meals every day, you must be organised in doing the shopping, to ensure that all the ingredients are in the cupboard or fridge when it comes to time to cook.
The job of shopping could be given to a family member who likes the idea of finding the ingredients – whether it is on a trip to the supermarket or sourcing them from smaller, independent shops. That way, when everyone compliments the taste and flavour of the ingredients in the meal, that person will feel a real sense of satisfaction at having found them.
Cooking
Cooking is, of course, the lion's share of the mealtime duties. But all members of the family can be involved in this area, right down the smallest child. Older children can perhaps be given responsibility for a sauce or a side dish – to really make them feel as though they have contributed. Allowing younger children to help out during the cooking will allow them to observe what happens during the preparation of their meal and they will see how raw ingredients are turned into a delicious meal.
Involving the whole family at mealtimes should eliminate turned up noses at certain dishes and should make your whole family take ownership for the meals they enjoy. But it also means you have chance to spend time together as a family, enjoying quality activities together. And even more than that, it means your children will know the basics of cooking from an early age, equipping them for life. The enthusiasm which youngsters will approach cooking with should not be underestimated. Who knows, simply by getting them involved in mealtimes, you may be nurturing the next Jamie Oliver.
You might also like...