Sensible Bedtimes for your Children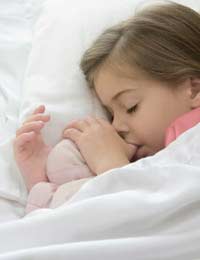 Sensible bedtimes for your children are not just a good idea because they give you some extra peace and quiet. There are actually plenty of health benefits to your children going to bed at an age-appropriate time. If they do not get enough sleep, their energy levels will be affected and this in turn will impact on everything they try to do, from exercise to schoolwork.
Children need far more sleep than adults and if you establish strict bedtimes from a young age, they will be less likely to complain when they are out to bed as they get older.
How Much Sleep Do They Need?
The important thing to remember when trying to decide how much sleep your child needs is that just like adults, each child is different and therefore needs a different amount of sleep.
Generally speaking, once children start sleeping through the night, you should aim to get them down for 12 hours a night. Some children may wake earlier than others in a morning but if they have all gone down at 7.30pm or 8pm then at least you know they are waking up naturally in a morning. This is far preferable to putting them to bed an hour later but then having to wake them the next morning, meaning they have not had the sleep their body is demanding naturally.
Obviously, as children get older, they need less sleep, although while they are at school and having to get up for school the next morning, and early bedtime in the week is still important – however much they may moan as teenagers.
Problems Arising From Lack of Sleep
Your children may suffer many problems arising from a lack of sleep. This will impact on their schoolwork and their ability to play sport and exercise, which in turn could lead to unfit children who even become overweight, all as an indirect result of not getting enough sleep. This is why a sensible bedtime is needed throughout their childhood.
Sleep is needed by us all as a way of recharging our energy levels and allowing our bodies to rest. If we do not have enough sleep, the next day we may become lethargic and sluggish. This can lead, in both adults and children, to decreased attentiveness. In school, this is particularly worrying for youngsters as they may struggle to concentrate on what they are being taught and fail to take in their lessons.
A bad temper can also be a result of not getting enough sleep and with children who do not know how to control their temper, this can lead to behavioural problems as well as general anger and inattentiveness.
It can be difficult to establish good bedtime patterns but it must be something which is done from the moment the child begins to sleep through the night. If you let the child stay up on a regular basis, they will think they can always do this and when they start school, this may well become a problem.
Teenagers will have a tendency to want to go to bed later and then sleep in the next morning – obviously something which they cannot do while at school. Therefore to avoid them having too little sleep, it is wise to be strict with their bedtimes as well – however much they may not like it.
You might also like...