Fitting Fitness Around Your Job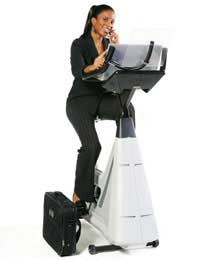 If you have a demanding job, or one which takes you away for long periods or one where you work shifts, you may struggle with fitting fitness around your schedule. In fact, there are any number of reasons why you may struggle to find time for exercise and fitness.
If you have a job where you spend large parts of the day sitting down, this means you may well be getting absolutely no exercise at all. But there are ways in which you can make sure you do fit fitness around your job without either suffering as a result and without you feeling too burnt out.
If You Work Away
If you work away, you may wonder what the point is of joining a gym or a sports team as you will invariably miss lots of training sessions and spend money on something which you cannot use. While you would be right about this, it does not mean there are not ways you can exercise. In fact, use the fact that you work away as leverage. Ask your company to make sure you are always booked into a hotel with a gym or a swimming pool. Then, instead of sitting in the hotel bar after a long day of work, unwind with a swim or a workout – and at no extra cost to you. If this is not possible, then go off for a nice long walk. This way, you get chance to explore the place you have been sent to as well as get some exercise.
If You Have a Demanding Job
If your job is demanding and tiring, then the last thing you will probably feel like doing when you get home from the office is go out again to the gym. But if you look on exercise as a way of unwinding rather than something which will drain you of energy, then you will be far more inclined to try and fit it into your routine. A pastime like yoga will help you to relax, unwind and deal with the pressures of daily life as well as help you to keep fit. Similarly, many people find swimming is a far more relaxing way of keeping fit than working out in the gym.
If You Work Shifts
While working shifts can leave your body clock messed up and you unable to establish a routine, there are ways in which you can build fitness around your routine. It may be difficult to join an organised sports team because of your shift patterns so you may be better taking up an individual sport. The big advantage that you have is that you can exercise when other people are at work, thus meaning that the roads are quiet for running on and the gym and swimming pool and have fewer people in them.
If you are often free ion the daytime because you work nights, you may even be able to pick up a reduced arte at the health club – make sure you ask about this.
Modern life is busy and stressful and work is a major part of this. But keeping fit is something which helps us to deal with this stress rather than add to it. This is why it is important to see exercise as something you do to unwind and something for yourself rather than something that must be fitted in. Find an exercise and a pattern which works for you and your lifestyle and you will be far more likely not to give up after a couple of months.
You might also like...